2013 2013 2013
Having issues with Toast.....
I have about 8 42 or 43 minitutes Xvid (extent ion is .avi) movies in Toast, but the window shows 957MB used with 7.01GB remaining, yet after encoding, i get a warning saying I do not have enough space on the duel layer disc i inserted.
Space required is 10Gig
Can someone clear this up ? I can't make sense of this... How can 5 hours equal under 100MB ? I though Toast meter showed you what the finished burn would be based on the disc.
The sizes of these 8 files in finger equal to over 1 Gig...
ANy solution to this ?</div>
Attached Thumbnails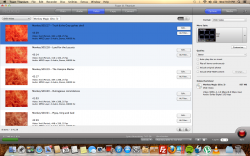 ---
Permission de ce forum:
Vous
ne pouvez pas
répondre aux sujets dans ce forum